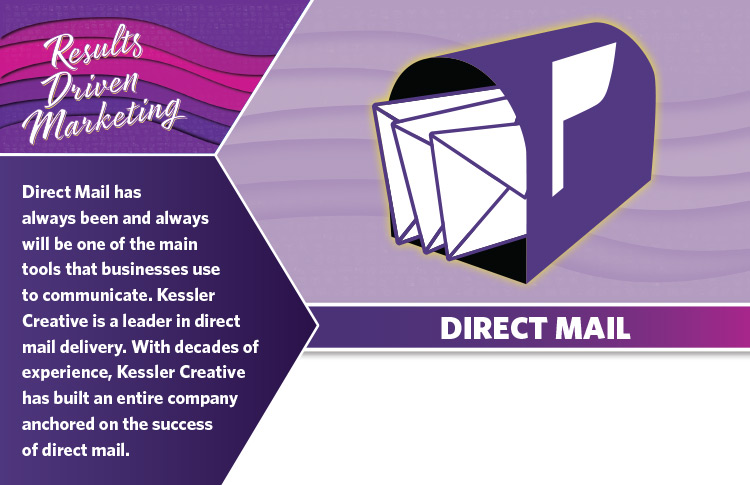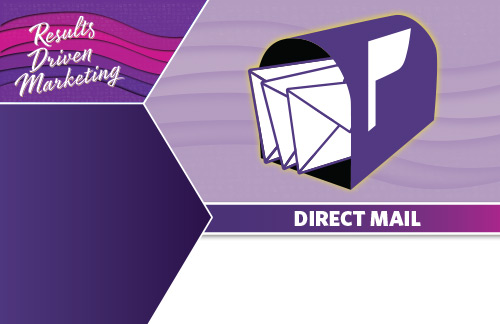 A self-mailer is promotional material that's mailed without an envelope. Since there is no envelope to open, these graphics can be creatively designed with attention-grabbing text and images that will be seen immediately by the recipient. Because a self-mailer offers immediate visual impact, it is an ideal format for delivering a concise marketing message.
Postcard marketing is a proven way to generate new leads and increase your business' sales. This type of mailing is quick to produce and travels fast through the mail stream. Postcards stand out in the mailbox and help customers easily see what you have to offer. Kessler provides several postcard options with numerous creative sizes and styles for postcards that go well beyond the basics.
Direct mail letters / envelopes help you make a strong connection with your prospects. Letters can appear more professional and offer more privacy than other types of direct mail. And with a variety of customization options available, Kessler's letters can improve your overall response rates.
Direct Mail Marketing in Jacksonville
Direct Mail has always been and always will be one of the main tools that businesses use to communicate their services. Kessler Creative is one of the leaders in direct mail delivery. With decades of experience, Kessler Creative as build an entire company anchored on the success of mail marketing.
Why Kessler Creative Is The Smart Choice for Direct Mail
Kessler was founded on direct mail. As Kessler has expanded services to pick up other marketing channels, it has never lost focus on the value of direct mail. Kessler has an entire building dedicated to making sure our customers direct mail channel drives success for their business needs. Being founded in direct mail gives Kessler a competitive advantage vs. other marketing companies that aren't as versed in mail marketing, and direct mail is still a bedrock in multi channel marketing campaigns.
Our Years of Experience Delivering Results

Kessler's experience in direct mail makes sure that our customers always get the quality priced products delivered with maximum efficiency.

Kessler Creative knows the ins and outs of all things direct mail, which makes sure that our customers do not have to worry that they are getting the best, the timely, and most effective direct mail delivery for the marketing purposes.

Multi-Channel Marketing - Consistent Messaging

Because of Kessler's experience rooted in direct mail, we can easily navigate the rest of the marketing channels which provides our customers with a consistent message across channels.
Direct Mail Services
Kessler Creative, located in Jacksonville, FL, has committed an entire facility to ensure that our customers' direct mailing marketing successfully meets their strategic goals.
Kessler has the edge over its competitors over other advertising companies that aren't as well-versed in direct mailing services, and mail advertising is still a pillar of multi-channel B2B direct mail marketing.
What Is Direct Mail?
Any physical communication with your business customers is direct marketing. The majority of marketing nowadays is digital, but when done well, physical advertising can have a significant beneficial influence on your clients and your bottom line.
You can provide your clients a distinct, personalized experience by combining direct mail marketing with your other marketing platforms. This will help your company stand out from your competition.
Who We Are
Kessler Creative was founded in 2007 and has since evolved to become one of the top suppliers of direct marketing services to customers across the country and right at home in Jacksonville, FL. Our company is driven to serve our clients with high-quality services at reasonable prices.
Every day, we provide advertisers, startups, and businesses of all sizes small and medium businesses with results-driven marketing solutions that help them target their ideal customers with innovative, compelling, and efficient mail marketing campaigns.
One-Stop Shop
Kessler Creative understands all aspects relating to mail marketing services, ensuring that our customers receive the best, highest quality, and most successful direct mail marketing possible for advertising objectives. Kessler's direct mail experience means that our clients receive high-quality, affordable products, created to meet your marketing objectives.
Kessler Creative prints a wide range of direct mail pieces in-house using our state-of-the-art machinery. We collaborate with customers to create a one-of-a-kind item that stands out from the crowd thanks to our unique capabilities.
We offer a very short turnaround time because every step of a client's order is completed in one place. Thanks to Kessler's direct mail knowledge, we effortlessly manage the rest of the marketing channels, ensuring that our consumers receive a unified message throughout all platforms.
Direct Mail Feels Nostalgic
Receiving letters in the mail might bring back memories of times when friends or relatives sent you mail.
In your mail marketing campaign, we recommend introducing a customized touch such as a personalized message or signature to provoke a stronger emotional response from the receiver. Small actions like this might help to make your campaign stand out.
Direct Mail Campaigns Reach More People
Mail campaigns could aid you to get more eyes on your marketing since buyers physically handle mail and look at it before deciding whether to keep it.
Consumers are more willing to keep a mailer if it contains a promotional offer, discount, or call-to-action that asks them to do something, such as bring it to a business or restaurant.
Self-Mailers
Any item of mail advertising that does not need an envelope is known as a self-mailer. A self-mailer replaces the envelope by allowing address details and postage to be printed right on it.
A great majority of self-mailers are mailed to customer households, making them a cost-effective means of mail marketing.
Kessler Creative knows the majority of self-mailers are made from a single sheet of sturdy paper or cardstock. Bi-fold, tri-fold, and four-panel folds are common self-mailer folding configurations.
Postcards
Postcard marketing is a true means of generating new leads and increasing revenue for your company. Postcard mail marketing stands out and makes it convenient for the customers to see what you're offering. You may use postcards to promote sales, announce the launch of a new store, or send out discounts.
For print and mail campaigns, we provide a variety of postcard solutions. Mail your postcard to potential clients to saturate the area around your business.
Alternatively, reap the benefits of our inexpensive print prices and produce postcards to distribute at gatherings or your office.
Direct Mail Letters/Envelopes
Direct mail letters support you in establishing a solid relationship with your clients. Letters can look impressive and provide more privacy than other forms of direct mailing services, which aids in the development of confidence and trust.
Kessler Creative letters allow you to communicate to readers on a personal level, which can increase responses, thanks to our range of customization choices. If you want to increase your profits, letters can also serve as your top marketer, generating results at all hours of the day and night.
Alternatively, letters can be used for marketing, surveys, fundraising requests, corporate announcements, or offering educational information.
Direct Digital Mail
When it comes to building brand recognition and acquiring a continuous flow of new and returning clients week after week, direct digital mail is a highly efficient marketing tactic. If done correctly, it may lead to a tremendous income increase for your company with very little initial expenditure.
Kessler Creative will assist you in developing a direct digital mail plan on top of your physical direct mail strategies to nurture and convert your prospects. Like no other, our captivating content piques people's interest in your products or services.
Does Mail Marketing Still Work?
Direct mail statistics reveal a long-lasting, growing, and successful marketing medium. Even though direct mail marketing has an antiquated image due to the term "snail mail," direct mail performance figures are undeniable.
Direct mail is still very effective. Overall, if your business in Jacksonville or anywhere else isn't using direct mail marketing strategies, now is the time to start.
Recent data shows that consumers react strongly to the novelty of actual postal marketing materials in the digital era. Is your company paying attention to this trend, or are you simply sending out more emails that end up in the junk folder?
If you're not convinced, we recommend looking at the figures.
42 Percent of Consumers Read Direct Mail
People don't just open the mail advertisements they get from companies. Many people also read what they have opened. According to Forbes, 42 percent of direct mail users read or scan their letters.
Response Rates for Direct Mail
Consider the following direct mail figure to put the 42 percent response rate in context: This response rate is around five to nine times greater than any other kind of marketing. If your company employs a gifted and convincing writer, your response rate may be considerably greater.
Including a Name on Your Direct Mail Will Help You Get More Responses
Making the decision to run a direct marketing campaign is merely the first step. You'll also want to make sure you're doing it correctly, which is why we're here. Kessler Creative suggests putting a name to your direct mail pieces for a simple upgrade.
Including a name in any mail boosts response rates by 135 percent. Just because you went to the effort to identify and include recipient names, you can receive more than double the return.
HIPAA Compliance for Marketing
Kessler Creative opens the door to stronger business partnerships with our clients by being a HIPAA Compliant vendor. This helps us to fine-tune your direct mail and gain a better understanding of how successful your advertising has been, while also protecting the safety and security of your customers' information.
Let Us Help You!
Give us a call or fill out our contact form if you'd like to talk about direct mail with one of our professionals. We'll show you how direct mail may help your company and how our direct mail service offers advantages over other kinds of advertising.
While we are based in Jacksonville, FL, we are proud to help your business anywhere in the country with your advertising needs. Kessler Creative's friendly experts will assist you through every step of the process, from design to printing and delivery.
Feel free to ask any questions along the way to make sure the final product is exactly what you have in mind. Contact us for a custom quote, print examples, or to get started on your direct mail marketing campaign right now!