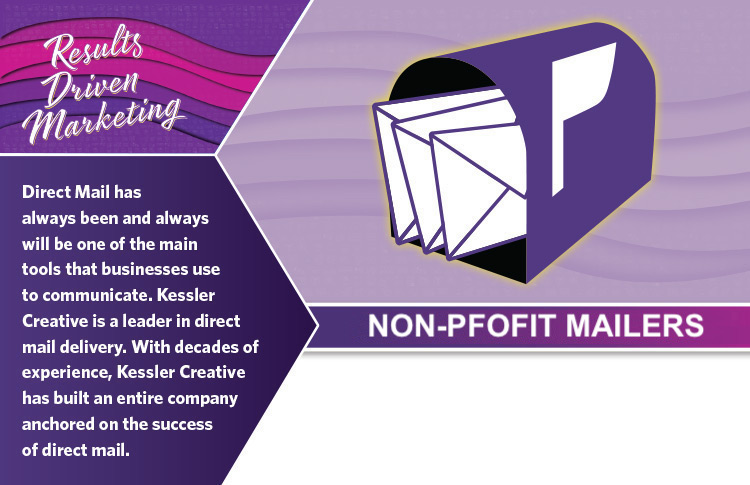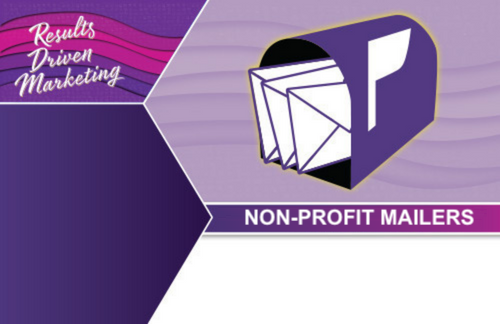 Direct mail is so exciting and unique in this digital age that it remains an effective marketing strategy that has stood the test of time. Incorporate non-profit mail into your marketing strategy for quick, cost-effective results. With Kessler Creative, we'll bring your non-profit campaign vision to life through direct mail.
Empowering Non-Profits With Direct Mail
Direct mail offers a range of benefits for non-profit organizations. It connects your organization directly to donors, without a high upfront cost. Many donors also appreciate the more personal approach direct mail has and may be more likely to respond as a result.
When you partner with Kessler Creative for your direct mail campaigns for your non-profit, you can expect top-notch, affordable products designed to meet your marketing goals. Our extensive direct mail experience ensures a smooth, successful direct mail campaign from beginning to end.
Why Choose Kessler Creative
Founded in 2007, our business began with a dedication to direct mail. While our services have extended since then, we've never lost sight of our beginnings. We understand all aspects of direct mail marketing services and want to use our extensive experience to benefit your non-profit.
Kessler Creative is one of the top suppliers of direct marketing services to customers across the country and right in our home base of Jacksonville, Florida. With our direct mail services, we're confident we can take your non-profit marketing campaigns to the next level.
Direct mail is a cost-effective marketing strategy, and we'll help you create a custom design that both potential and current supporters will love, leading to increased donor engagement.
Contact Us
Are you ready to design and run a memorable, effective non-profit mail campaign that won't break the bank? Turn to the expert team at Kessler Creative. We can't wait to help you with exceptional direct mail non-profit campaigns. To learn more, fill out our online form, call us directly, or reach out via our social media channels today.
Our Non-Profit Mail Services
Many steps go into running a successful non-profit direct mail company campaign. At Kessler Creative, we offer various highly effective direct mail services for non-profits, including:
Whether you have a specific vision for your direct mail campaign or need help strategizing, Kessler Creative is here to help

We can bring your creation to life or design a one-of-a-kind, stylish piece, ensuring your campaign stands out from the competition

At Kessler Creative, we print and mail a wide range of direct mail pieces, all in-house

We'll keep track of your direct mail and ensure it reaches your supporters and donors promptly
Kessler Creative is here to help your campaign succeed from start to finish. We enjoy collaborating with our customers, ensuring satisfaction every step of the way. Additionally, we offer a quick turnaround time because all our work gets done in one place.
Frequently Asked Questions About Non-Profit Direct Mail
If you think direct mail is outdated, you may be pleasantly surprised to learn that it's still an effective tool worthy of keeping in your marketing arsenal.
People enjoy reading direct mail because it offers a unique novelty in this digital age. In fact, according to NerdWallet, 42% of receivers read their direct mail. This rate is around five to nine times greater than any other kind of marketing.
Additionally, people enjoy the personalization offered by direct mail. Getting a personal, heartfelt, and beautifully designed letter is exciting, especially from a non-profit contributing to the community.
Direct mail is nostalgic, reminding recipients of simpler times when friends and family would send mail. This nostalgia will delight donors and supporters. You can add personalizations to your direct mail, such as a custom message or signature.
Small touches like this can hit a personal chord with potential donors, encouraging them to support your cause.
We offer various services to help make your direct mail campaign a success, including:
Self-mailers. A self-mailer is any piece of mail that doesn't come in an envelope. The address and postage are printed directly on it, making an accompanying envelope unnecessary. Self-mailers are easy to print and cost-effective.
Postcards. Postcards are great avenues through which to promote your non-profit. If your non-profit wants to advertise a sale or promotion, a postcard is an inexpensive yet effective option to choose.
Letters and Envelopes. Traditional letters and envelopes can help you build a strong, more formal relationship with your donors and supporters. They're great for sending out surveys, fundraising requests, and special announcements regarding your non-profit.
Additionally, we aim to be your non-profit's full-service, go-to for direct mail marketing. We'll help you plan, design, and execute your direct mail campaign quickly and effectively.
As a non-profit, we understand your budget may be tight, and we're willing to work with you every step of the way. At Kessler Creative, we strive to design the best direct mail campaigns without charging an arm and a leg.
Additionally, as a full-service direct marketing agency, our services are cost-effective. You run your entire campaign through us — from design to tracking — instead of shopping at multiple companies.
Absolutely! We enjoy collaborating with our customers to create unforgettable direct mail designs that look incredible and stand out from the competition. Our in-house, state-of-the-art machinery can bring any design to life. We have an entire facility dedicated to creating the best direct mail campaigns possible.
Getting started is easy. Simply fill out our online form or call us directly for a quote. You can also connect with us via Facebook, Instagram, or LinkedIn. Our friendly and experienced team is ready to help.