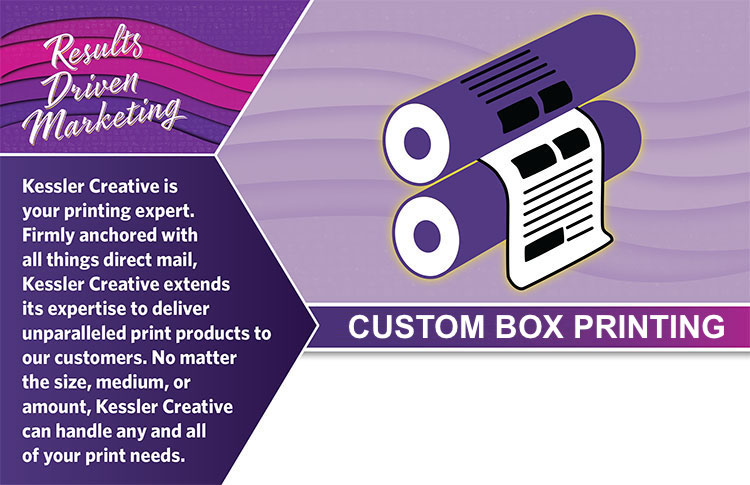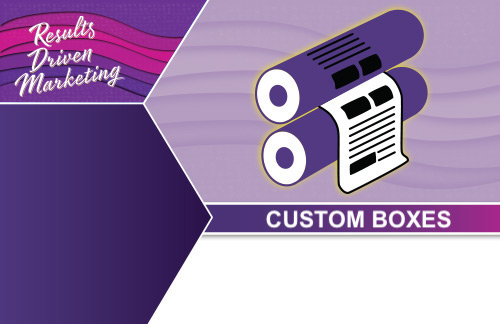 Customizing your marketing can make your brand stand out from competitors and boost sales. The limits to what you can customize are virtually endless! Enter custom print boxes. Not only do custom boxes look great, but they also show off your brand and leave a memorable impact on your clientele.
At Kessler Creative, we offer custom box printing on corrugated boxes, bags, pouches, and just about any other kind of printed packaging. Our professional printing services have it all: full customization, quick turnarounds, and effective communication from start to finish.
Empowering Your Brand With Custom Print Boxes
Custom box printing offers more than a pretty package (although that's nice, too). Customizable packaging makes a statement and gives your customers an unboxing experience to remember. They'll be more inclined to share your product with friends and family or post it on social media. This makes custom boxes a valuable marketing tool that can empower your brand.
In this digital world, there's something special about receiving physical mail, especially packages. It offers an efficient way to connect your brand to your customers without breaking your budget. Many customers also appreciate the more personalized approach custom boxes have and may be more likely to become repeat clients as a result.
Why Choose Kessler Creative?
Established in 2007, Kessler Creative has over 15 years of experience providing results-driven marketing to thousands of clients. We have a proven track record of quality work at affordable costs and offer a wide range of services to meet all your design, print, and mailing needs. We're your convenient one-stop shop for marketing.
If you have further questions, schedule a virtual or in-person meeting with our team. We don't just want to print your custom boxes; we want to get to know you and your business's goals to help you achieve them. That's the Kessler Creative difference.
Our Custom Box Printing Services
We design our custom boxes with your brand goals in mind. No matter what your vision is for your packaging, you can count on us to bring it to life. At Kessler Creative, we're with you every step of the way. Our in-depth process includes:
If your custom boxes are part of a larger marketing effort, the marketing strategists at Kessler Creative are always available to talk strategy.

Whether you have a vivid idea for your artwork or need design assistance from our award-winning graphic designers, Kessler Creative will ensure your custom packaging makes a statement in all the best ways.

We'll complete your custom box printing quickly and all in-house.

Let us know how your customers are responding to your packaging, and we'll happily make adjustments and implement your new ideas on your next project.
Kessler Creative has everything you need, and our team will work around the clock to ensure your marketing efforts generate the results you want. We enjoy collaborating with our customers, ensuring satisfaction from the first phone call to the final print. We also offer a fast turnaround time since all our work gets done in one place.
Let Us Handle Your Custom Box Printing Needs
If you are ready to take your business's marketing efforts to the next level with custom print boxes, turn to the expert direct marketing team at Kessler Creative. We look forward to enhancing your marketing campaigns with our all-in-one design services.
For more information, fill out our online form, or contact us today.
Custom box printing is a process that designs and prints product boxes for your brand. Instead of shipping your products in plain packaging, custom box printing lets you show off your brand logo, colors, and other design elements.
Custom box printing can enhance your business's marketing efforts by showing off your brand. It will leave a lasting impression on customers and make your brand recognizable among competitors. Custom print boxes with your logo will also increase your brand visibility on the market.
Kessler Creative will work with you every step of the way to design a custom box that perfectly meets your business's needs. We offer various materials to choose from. Just tell us what you need, and we'll make it work. Corrugated cardboard is a popular custom box material because it is thicker and more durable than cardboard.
Absolutely! We want to design the custom print box of your dreams. Tell us what shapes and sizes you need, and we'll bring your vision to life. It's that easy.
If you have your own artwork, we'd be happy to use it. If you need assistance with the design process, we can help you with that, too. Our award-winning graphic designers will meet with you, gain insight into what you're looking for, and design a custom box you'll love. At Kessler Creative, we're all about the details — and getting them right.
At Kessler Creative, we understand your time is valuable; you want to ship your custom boxes as soon as possible. Our turnaround times depend on various factors, including the size of your order.
But no matter what your project entails, we'll complete it in a reasonable timeframe. We can typically get your custom print boxes to you within 10 days, but feel free to ask about rush options if necessary.
Getting started with our custom corrugated box printing service is easy. Simply fill out our online form, or call us directly for a quote. You can also connect with us and ask questions via Facebook, Instagram, or LinkedIn. Our friendly and knowledgeable team is ready to help.