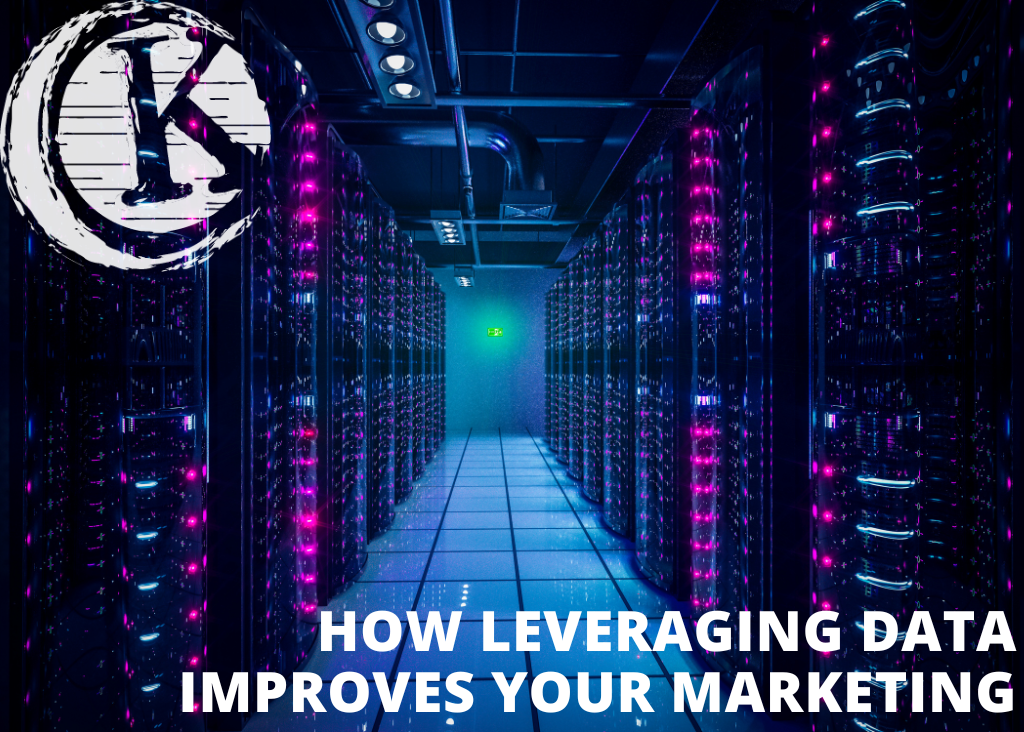 How Leveraging Data Improves Your Marketing
Marketing has taken a fundamental turn since big data came to the forefront of decision-makers' minds over the years. Successful marketers have now strayed away from gut feelings and experience while turning to their data when thinking about marketing strategy. Marketing managers today must fully understand their target audiences' needs to take full advantage of any implemented or planned strategy. Businesses can't ignore the more than 2.5 quintillion bytes of data collected each day (SeedScientific). With all that data, having a data-driven approach to your marketing strategy is essential to getting the most out of every dollar.
What is a Data-Driven Marketing Approach?
A data-driven marketing approach involves consumer data as the centerpiece of newly built marketing strategies. Using consumer data allows marketers to gain insight and accurately predict the needs and desires of target audiences. Good data can also facilitate predictions for a given audience based on buyer behavior. Two out of three leading marketers say data-driven decisions are superior to gut instinct (ThinkwithGoogle).
Types of Marketing Data
When marketers use data to position their strategy in correlation with the marketing mix (product, place, price, promotion), they produce in-demand offerings that reach relevant consumers on the right channels.
With vast amounts of data collected every day, deciphering key statistics from less important ones can be difficult. Consumer, competitor, sales, and product data are the key statistics you need to keep an eye on to maximize marketing ROI.
Consumer Data
The first key statistic a marketer should know is who is purchasing their products and services. Understanding how consumers interact with your brand and its products will benefit segmentation, allowing you to meet consumer expectations with appropriate content. This data can come from your customer relationships management (CRM) and customer data platforms (CDP) systems in the form of demographic, behavior, transaction, interactive, and financial data.
You can also collect data through social media and email channels to better understand your consumers and what's working. Getting a grasp on this will help you as a marketer better predict future consumer behavior.
Competitor Data
One activity all marketers should be doing is conducting a SWOT analysis of their business and competitors in their markets. Laying out the strengths, weaknesses, opportunities, and threats of your business and your competitors gives you a clear picture of what differentiates you from them. Doing so identifies gaps to target that improve your value proposition and strategy execution.
Knowing your competitors inside and out determines what strategies they are currently using and identifies resources your brand can use to win a given market. By providing benchmarks for the competitive landscape, competitor analysis will expose new strategies that will lead to positive consumer responses.
Sales and Product Data
These two data points are naturally interconnected. Sales data comes from measurable statistics such as growth, revenue, retention, profit margin, and churn rate. Using this data, marketers can better understand how their business is performing in the marketplace and predict sales forecasting for specific products and services. Product data tells the story of each product or service your brand offers. It helps determine which of your offerings produces the most brand affinity and lifetime value for consumers.
It also shows what is driving the acquisition of new customers. A data point in this segment you want to keep an eye on is the product adoption rate. It indicates the performance of updates, new products, and features.
Benefits of a Data-Driven Marketing Strategy
Now that we've covered the most important types of data, it's time to discuss how a data-driven marketing strategy benefits your brand. The benefits can be immense with accurate data, as 78% of businesses say data-driven marketing increases lead conversion and customer acquisition (ZoomInfo).
Personalization
It's no surprise to marketers that consumers care about personalized offers, products, and messages. 86% of consumers say that personalization has an impact on what they purchase (Infosys). Data enables personalized content by identifying potential pain points and triggers consumers are most likely to react to. Employing personalized techniques through data-driven campaigns saw over five times higher ROI for businesses that did so (Adverity).
Clear Target Audiences
Having a clear audience works in your favor as a marketer. Data about your consumers enables you to build clarity around your desired audience which also helps with personalization. A defined audience makes predicting future behavior increasingly viable and removes the guesswork when designing products, services, and promotions. Reaching the right people with the right message is powered by data.
Identify the Best Channels
Reviewing data from all your marketing channels helps you define which channels are working and which are wasting your money. This data also tells you if there's a channel you should be using but currently aren't. Knowledge of your channel activity helps you position content so the right audience will see it.
Formulating your marketing strategy around data creates a clear picture of your branding, your products and services, and your target audiences. It gives you an edge when predicting the future and saves you from wasting money on unnecessary promotions and product developments. With so much data available, it is important to start prioritizing data when creating your marketing strategy. Once you do, you will see positive results which will lift your business!