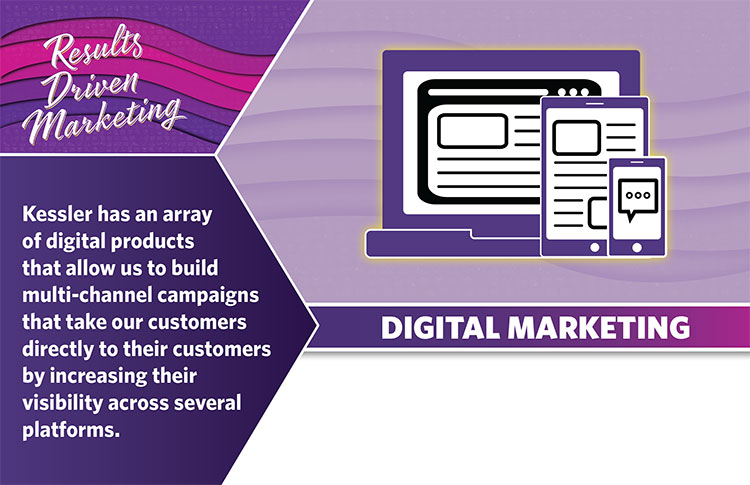 Kessler has multiple ways of helping you target your exact customer. We can help you build your exact audience, increasing your ROI.
Kessler is a full service marketing company that can help you deliver a style or length of a marketing campaign. Our team of experts can help you with yearly, seasonal, or multiple campaigns.
Kessler Creative can help you support your direct mail campaign by delivering effective and efficient messaging through a wide variety of digital platforms including social media, email marketing, and retargeting!
Results Driven-Marketing for Your Business
Kessler has an array of digital products that allow us to build multi-channel campaigns that take our customers directly to their customers by increasing their visibility across several platforms.
Why Choose Kessler Creative?
A team dedicated to staying on top of current trends in digital marketing, Kessler is a trusted resource when it comes to providing the best options for our customers when they are trying to raise their visibility in their respective markets. We work closely with our clients to identify solutions that match their needs. We have our fingertips on social media advertising, email delivery, landing pages, displays ads on a variety of networks, a comprehensive understanding on search engine ad services, YouTube advertising, geo-fencing, retargeting, and a variety of other solutions that we custom build for our customers. We scope each marketing campaign out to be unique and customized for each of our customers We provide channel reporting to each of our customers so we can provide recommendations for pivots when the time arises.
We provide the right solution at the right value

By spending time in the discovery phase of our services, we can provide the right cost solution that has bottom-line value

Customized approach for your business

By making sure we tailor each approach, our customers never feel like they are overspending or have their money in the wrong channel.

Ongoing communication for customized results

We provide direct access to our project teams to speed up customer communication and feedback.
Latest Digital Design Work