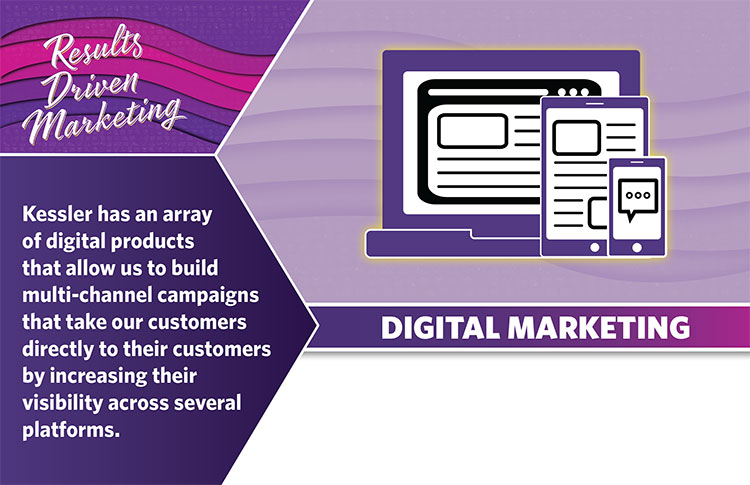 Kessler has multiple ways of helping you target your exact customer. We can help you build your exact audience, increasing your ROI.
Kessler is a full service marketing company that can help you deliver a style or length of a marketing campaign. Our team of experts can help you with yearly, seasonal, or multiple campaigns.
Kessler Creative can help you support your direct mail campaign by delivering effective and efficient messaging through a wide variety of digital platforms including social media, email marketing, and retargeting!
Digital Marketing Agency in Jacksonville
Kessler has an array of digital products that allow us to build multi-channel campaigns that take our customers directly to their customers by increasing their visibility across several platforms.
Why Choose Kessler Creative?
A team dedicated to staying on top of current trends in digital marketing, Kessler is a trusted resource when it comes to providing the best options for our customers when they are trying to raise their visibility in their respective markets. We work closely with our clients to identify solutions that match their needs. We have our fingertips on social media advertising, email delivery, landing pages, displays ads on a variety of networks, a comprehensive understanding on search engine ad services, YouTube advertising, geo-fencing, retargeting, and a variety of other solutions that we custom build for our customers. We scope each marketing campaign out to be unique and customized for each of our customers We provide channel reporting to each of our customers so we can provide recommendations for pivots when the time arises.
We provide the right solution at the right value

By spending time in the discovery phase of our services, we can provide the right cost solution that has bottom-line value

Customized approach for your business

By making sure we tailor each approach, our customers never feel like they are overspending or have their money in the wrong channel.

Ongoing communication for customized results

We provide direct access to our project teams to speed up customer communication and feedback.
Digital Marketing Company
The market is overcrowded with digital marketing vendors that promise the world and deliver nothing. So if you're looking for results-driven digital marketing help, Kessler Creative is a local award-winning marketing agency with over 15 years of experience in helping small to medium-sized businesses reach their goals.
With our expertise, we are confident we can fulfill all of your digital marketing needs. We pride ourselves in delivering high-quality service to our clients in the Jacksonville area, helping them reach their target audiences across all digital platforms and rise above their competitors.
We know and understand the local market, which allows us to create adaptive strategies to get you a consistent flow of new clients every month.
If you're ready to scale your business and get to the next level, Kessler Creative is ready to assist in all of your marketing endeavors.
Kessler, A Premier Digital Marketing Company
At Kessler Creative, we don't win unless our clients win. We offer a wide range of digital products and strategies that bring your ideal customers directly to you by increasing your online visibility across several platforms.
We can help you cut through the noise and maximize your reach online to obtain leads that are ready to convert into paying customers.
We don't want to be an expense for your business, but a profit generator. From social media marketing to search engine optimization and pay-per-click ads, we are dedicated to providing you with result-driven strategies that will help your rise above your competitors and generate ROI.
At Kessler Creative, we don't use a cookie-cutter approach with our clients. We work hand in hand with you to determine your specific needs and provide you with a marketing approach that perfectly matches your goals. Every single campaign is customized to deliver the results you are looking for.
Here are some of the top services that we provide:
Direct Digital Mail
From newsletters to purchase receipts, emails are a crucial component to communicating with your potential customers, as well as existing ones. It is used to educate, generate sales, and create a community around your brand.
Direct digital mail is known to be an extremely effective marketing strategy when you want to create brand awareness and acquire a consistent flow of new and returning clients every month. If executed properly, it can be a huge revenue booster for your business with very little investment upfront.
Kessler Creative can help you create a direct digital mail strategy to nurture your prospects and convert them at a high rate. Our compelling content draws interest to your products or services like no other. With targeted local results, you can reach potential customers in the areas that are most relevant to your business with ease.
A direct digital mail strategy can create impressive results when it comes to winning customers' loyalty by giving them access to special deals and perks. When you want your customers to check in to learn more about the latest products and seasonal offers from your company, direct digital mail might be just what you need.
Digital Mail vs. Direct Mail
While direct mail is often perceived to be a more trustworthy, personalized form of marketing outreach, many companies aren't quite sure how to leverage it effectively. However, companies that take advantage of direct mail will often enjoy a high response rate when they have the right marketing partner.
Digital mail tends to provide a much higher return on investment when it comes to your marketing efforts.
While you might be weighing out the advantages of one or the other, in reality, physical mail and email can work to directly reinforce one another. At Kessler Creative, we strongly encourage using direct mail as a complement to digital mail to ensure that no stone is left unturned. After all, if you can leverage both channels to drive even more revenue, why not maximize your reach?
Our team can help you to create a strategy that will leverage digital and direct mail to make the most of your marketing budget and enhance your ROI.
The Top Digital Agency for Political Campaigns
Political groups have begun to use digital marketing platforms more than ever before. It is now vital to adopt a digital strategy as a political candidate or group in order to keep up with the competition.
If you are looking for support in finding the right online marketing strategies for your political campaigns, Kessler Creative can provide you with everything you need to catch the attention of your audience.
From website creation to SEO and pay-per-click (PPC) ads, we have all of the skills and tools necessary to get you to the top and make your campaign shine.
When you trust the team at Kessler Creative, we'll work closely with you to understand the objectives of your political campaign, designing a precise, targeted approach to help you reach those objectives.
Digital Advertising for Political Campaigns
As digital ad platforms have become increasingly restrictive, it has become crucial to have the right expertise to navigate the platforms in the right ways.
For instance, Microsoft Advertising, Twitter, and Quora have completely banned political pay-per-click ads on their platforms, while Google and Facebook have tightened their restrictions. At Kessler Creative, we stay up to date on the latest guidelines for political content so that we can maximize your success.
We have a deep understanding of the limitations of each platform and the approval processes that are necessary when you want to effectively run ads for political campaigns and convert electors. This allows us to go above and beyond our clients' expectations and deliver tangible results.
Digital Marketing for Political Campaigns
When it comes to political campaigns, digital marketing can be used to build awareness and attract voters well beyond the ads that you place.
Here are some of the things you'll need to think about when creating a digital marketing strategy for your political campaign:
Your website
Your search engine rankings
Your online advertising
Your social media content
Your email marketing
At Kessler Creative, we can handle it all for you so that you can focus on all of the other things that require your attention. We can set up and manage all of your digital marketing campaigns, giving you access to extensive analytics and measurable results.
We pride ourselves on offering powerful tools, data-driven marketing solutions, and outstanding customer service. Let us help you to make the most of your digital marketing for your campaign today.
How Digital Marketing Works with Response Boost
When you think of omnichannel marketing solutions, you might think of online and in-store experiences. But if you want to maximize your reach, you might be missing a very crucial component: direct mail.
Direct mail is one of the oldest and most commonly used marketing tools to acquire customers. While all of the hype is around online marketing, you won't want to forget how effective direct mail really is, especially for certain demographics that don't necessarily spend a lot of time online. After all, you wouldn't want to miss out on opportunities to acquire more clients, right?
What if there were a way to integrate direct mail into your overall omnichannel marketing strategy to engage with all of your customers? Would it affect your sales? This is where Response Boost+ comes into play.
With Response Boost+, Kessler Creative can help to merge your company's digital marketing assets with direct mail outreach. This will allow you to reach your customers not only online and in stores, but also directly at their homes, leaving no stone unturned.
Our direct mail strategies can drive traffic to your landing pages, create social media engagement, and boost sales. We will take care of everything from designing your mailers to managing your campaigns and even your printing needs.
If you want to learn more about Response Boost and our other marketing services, give us a call or get in touch with us now through our contact form. We are located in Jacksonville, FL, but we're happy to partner with businesses all across the country.
Latest Digital Design Work