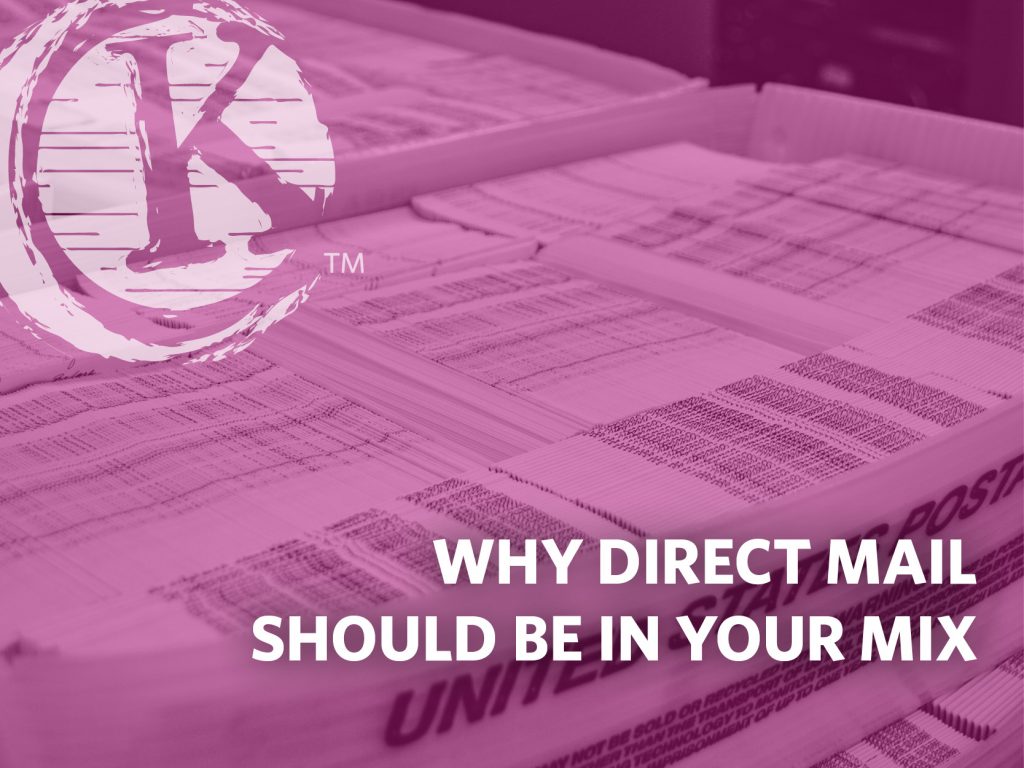 Why Direct Mail Should Be in Your Mix
Adding direct mail to your existing marketing efforts increases the awareness of your brand, routes traffic to your physical location, your website, your social media pages and increases your customer base.
If you are new to direct mail, your first move with a direct mail campaign should be defining goals for your campaigns. By understanding your goals, you'll build a strategy allowing you to create an effective campaign.
For example, if your goal is to increase brand awareness within a designated market area and keep customers and prospects up to date on your latest products or services, a good strategy would be monthly postcards to neighbors and customers, telling them about your new services, promotions or upcoming events.
Start simple. At times, on top of everything else it takes to run your business,  it can be overwhelming to begin direct mail marketing. However, as you become familiar with the process and develop a campaign which suits your needs, you'll be able to increase the complexity of your offers and mail pieces.
Starting out, you'll need the proper resources in place. An important part of adding direct mail to your marketing mix is to be sure that you're prepared with the proper funds. The cost of direct mail is an important factor. Direct mail should be viewed as an ongoing process and not a once and done solution.
Just like other channels, your top marketing goal should be to build a top of mind awareness on your business as a viable provider of your products or services. Fluctuating and unpredictable mailings will only cause you to waste money. You'll want to be sure you have enough time and money to support your campaign goals until your ROI can cover your costs and meet your expectations.
Here's an example: Let's say you own a carpet cleaning service. In your mind, everyone with carpet in their home logically knows they'll eventually need a reliable carpet cleaner.
With an ongoing direct mail campaign, you can subliminally educate and remind prospective customers about your value proposition and why your services will be their best choice. Later, when the time comes to have their carpets cleaned, your business brand will be top of mind and will be more likely to get the call.
Next, a bulk mail project is not easily done on your own, there is a lot of planning and prep time going into it correctly. If you are a small business owner or an entrepreneur, it's best to seek out an experienced mail house with whom you can work. Start planning your project at least four to five weeks before you plan to mail.
Once you're clear on your direct mail objectives and you have the resources in place, you'll need to find a direct mailing services provider. When looking for a services provider, select an all-inclusive mail house. You want a company that offers a variety of products in professional design, mailing options, short runs and quick turnaround times, as well as significant postage discounts.
There are two main things to consider when choosing a provider; services and products. Choose services which ensure you have the most accurate mailing list, the best design, and the best strategy for your company. Your direct mail service provider will take care of the design, mail list, addressing, labeling, envelope stuffing, and mailing of your marketing products. These services will save you a lot of time and money.
The best service providers offer a large variety of products from which to choose. Self-mailers, postcards, brochures, and flyers are some of the most popular products that can help you to achieve your marketing goals.
Next, you should consider the color options for your product and the printing method you want to use. Some companies offer full-color options and high-quality offset and digital printing, while others provide limited color options and few printing finishes. Make sure their product and service selection meet your desired results.
Always use a provider who will help assist you procuring a well-targeted mailing list aimed at recipients who are most likely to require your products or services. As an example, let's say you are an education provider who tutors school-age children. Your mailer should easily be able to help you find a mail list of households within your designated market area, who have children within your target age range and meet your targeted household incomes. In this way, you will only mail to the prospects who meet your target criteria.
Adding direct mail into your marketing mix is one of the smartest decisions you can make. It's a well-known fact, consumers prefer a combination of digital and tangible marketing channels. They feel more personally engaged in your advertising and spend as much as 30% more due to the varied marketing approach. By allocating enough resources and finding a good provider as an entrepreneur, you'll be well on your way to a building more and better business.
The strengths of a mailing company are vital to furthering the success of your business. Kessler Creative is the definitive one-stop shop for all your direct mail marketing needs. Call us at 888.416.4098 or visit our Contact Page to get in touch with us today!