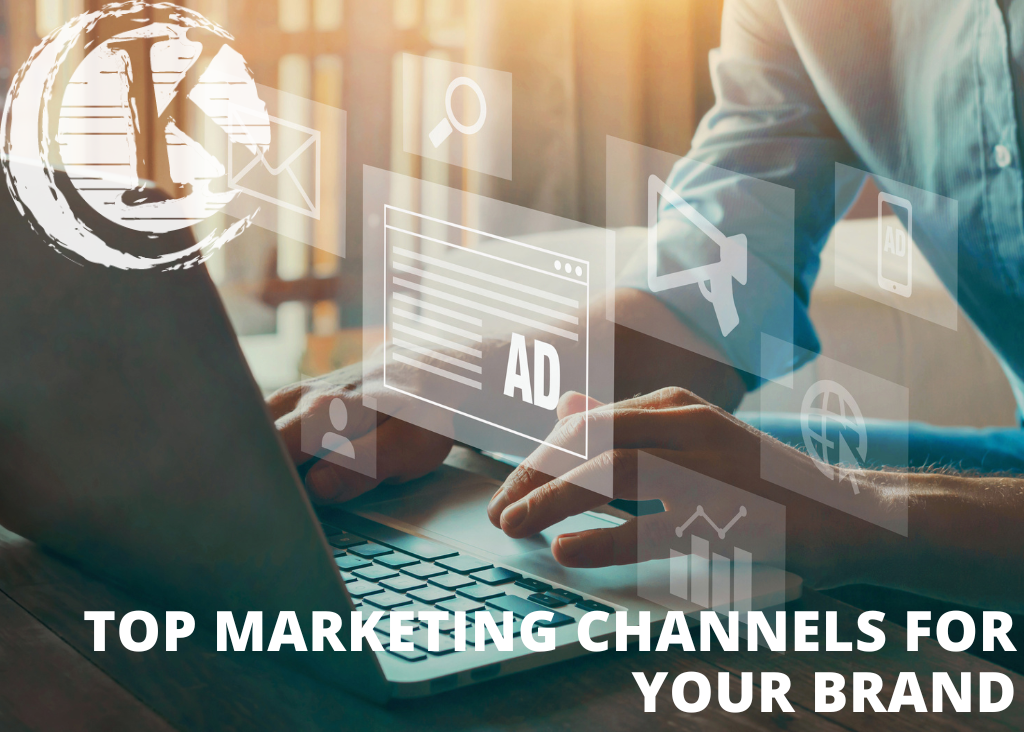 Top Marketing Channels for Your Brand
Most people involved in the business world at some level know how important marketing is to reach and sustain business success. So much that global marketing spending is around $1 trillion, proving companies emphasize their marketing efforts, but how should you spend your marketing budget? While marketing budgets are ballooning worldwide, marketers have become more concerned with the return. Maximizing returns requires marketers to identify which channels best suit their audience and messaging.
There are multiple marketing channels your business should pursue to influence customers to buy from your brand. From email, social media, video, content, influencer, SEO, traditional, and word-of-mouth marketing, your options can seem endless as a marketer. Which one is right for you? The answer could be all of them or just a couple based on your business, industry, and target demographic. Let us dive into each channel to investigate how you should use them to get the most out of your marketing strategy!
Email Marketing
Email marketing perfectly fits the description of mass marketing today. It's also one of the easiest and fastest ways to blast messaging to the most customers at once, and many businesses are already utilizing it, 64% of them. Email marketing is popular because over 4 billion individuals, and over 90% of people in the U.S, have an email address. That number grows each year too.
Email marketing also offers a high return on investment, $36 for every $1 spent on average. Another beneficial element of email marketing is that it's unaffected by algorithms like social media and SEO. You can send users graphics, specials, product information, announcements, welcome messages, follow-ups, and other content that work to engage your audience, secure more sales, and build a loyal base.
Here are a few tips for getting the most out of each email:
Value white space and simplify your message. You may think creating a stunning graphic with a bunch of parts will catch the quality attention of people but keeping it to the point will go a long way towards maintaining the positive interest of your customers.
Segment your emails to personalize them to your audience. Personalization is paramount to creating engaging campaigns, so separating your customer segments with different emails based on interests and needs should be a priority.
Create and integrate a crowd-drawing lead magnet that works to gain additional subscribers to your email chains. Discounts for new subscribers or a free resource like a guide or book that entices people to sign up are great lead magnets.
Track your email response. Be sure to maintain knowledge of open rates and click-through rates to nail down what's working and what's not. Creating multiple emails that are slightly different can help show effective emails.
Social Media Marketing
Social media is widely used today by 4.7 billion consumers and businesses. The average person spends on average 2.5 hours a day on various platforms. This channel is the best way to give quick updates about what is going on at your business and interact with your audience live. 1 in 3 people browse social media to find products from brands too. For business, the best platforms are LinkedIn, Facebook, Instagram, and Twitter. Social media is great for creating awareness about your brand and its products since consumers find it useful throughout the buying process. Creating and maintaining a social presence should be part of any successful strategy.
While you have options for sponsoring and promoting certain content to reach a wider audience, social media is free, making it a relatively inexpensive way to engage your audience. Social media platforms also keep demographic and geographical data marketers can use for precise targeting if they decide to promote a post.
Since each platform has its niches and best practices, let's go over them individually:
LinkedIn: This platform differs from the other three because it's designed for business professionals. Users on LinkedIn mainly share job experiences, accomplishments, and milestones, making this platform the go-to for B2B interactions.
Facebook: This platform is the most popular social network with over 2.8 billion monthly active users, making it a must for businesses trying to reach a wider audience. It's great for posting quick updates about your brand, its products, and upcoming events.
Instagram: Instagram is a platform for engaging with your audience through creative videos, short clips, and pictures to keep people updated about your company's culture, products, and overall mission.
Twitter: If you want to update your followers about recent news or up-to-the-minute reports, Twitter is the way to do it. This platform is best for creating the most engagement with your audience and building a community.
Video Marketing
Not everyone likes to read a bunch of text. Videos generate some of the best engagement for your brand as 72% of consumers prefer watching a video when learning about a product or service. Video marketing also increased message retention as 95% of your messaging will be remembered after a video while only 10% gets retained from plain text. This makes video content essential to create the most buzz around your business.
One thing to keep in mind is that your videos should not be too long. Videos that are a maximum of 2 minutes receive the most engagement. Anything longer and engagement significantly drops off. Video ideas for your business include how-to videos, quick tutorials, production processes, company culture, and product advertisements.
Content Marketing
Marketing goes beyond trying to secure the final sale of a potential customer of your brand. If all it appears to your customers is that you're trying to sell, sell, sell, then they will slowly distance themselves. Instead, focus on quality content marketing to maintain a positive presence in the minds of your audience.
Content marketing refers to creating and distributing content that includes blog posts, infographics, case studies, videos, e-books, etc. that attract people to your business. Content is king today, so emphasizing consistent content creation will be beneficial to keeping your name out there.
The end goal is still to secure a sale but doing so on a gradual basis by first attracting customers with quality, educational, informational, and humorous content will help your brand in the long run. The purpose of content marketing is to build your brand and its reputation, retain customers because they love your content, and increase sales as more customers encounter your brand. Your content marketing also helps your SEO efforts (more on that later).
Influencer Marketing
Trust is probably the most important factor in gaining momentum as a business, and influencer marketing is one of the fastest ways to gain trust and additional sales. Influencer marketing involves partnering with a socially popular content creator that already has an engaging audience fitting your target demographics. These "social superstars" are trusted by their followers. If the influencer says something positive about your brand and its products, there's a high chance their followers will try you out.
When you use influencers to help market your brand, you're taking advantage of the trust they have built with their audience and turning it into confidence in your brand. You could get an influencer to do a product review, or a tutorial, launch collaborative projects, host influencer social media takeovers, and make influencers brand ambassadors. They don't need to buy your product either, sending them freebies works to entice influencers more.
Many companies already take advantage of influencer marketing, as 71% of marketers see it as beneficial to businesses, and 82% of people say they trust social networks to guide purchase decisions.
Influencer marketing is worth looking into if you want to quickly boost your brand's image, products, and values.
Search Engine Optimization
Every business needs to have an online presence visible on search engines to meet goals. 63% of shopping experiences begin online, meaning many customers start the buyer journey inside a search engine. If customers have trouble finding you online, they likely won't ever find you. It's not just about having a website. You need to also aim to show up on the first page, so customers don't have to go searching very far to find you. Over 90% of traffic occurs on the first page of Google, the most popular search engine, meaning effective SEO management is substantial for getting to and maintaining a high rank.
SEO isn't limited to your website; it's used in all digital channels including YouTube and social media. Optimizing any existing channel will likely increase online traffic and possible leads. SEO algorithms change, so continue optimizing as much as possible.
Stuck on SEO? Read here to gain full knowledge of what it is, how to use it, and why it's beneficial to your brand in many ways.
Traditional Marketing
Another marketing channel to review is offline marketing, mainly through the use of:
TV and radio ads
Conferences and trade shows
Magazines
Flyers
Brochures
Booklets
Business cards
Cold calling
Billboards
Banners
It may be easy to assume in today's digital age that offline marketing isn't practical. Not everyone uses the internet to find new businesses and products, however, and when we get out, we see offline advertising everywhere.
Be sure to take advantage of traditional marketing to reinforce what you're trying elsewhere. More impressions mean a higher chance of brand recognition and retention. Integrating traditional and digital components into your marketing campaigns isn't as difficult as it might seem either. Including a call to action directing people to your engaging digital content and website is another way to engage your audience through multiple channels. This is referred to as multichannel marketing.
Word of Mouth Marketing
Because of the trust factor, word-of-mouth is an excellent marketing channel for gaining positive attention and generating added sales. Word-of-mouth marketing happens when people spread the word about their experiences with your brand and its products to others. Consider that 90% of all purchases are directly linked to word of mouth, and you'll see just how important people spreading the word about your brand is. Influencer marketing features the same concept, using popular voices to advocate your brand to those who trust them, leading their followers to try your brand out.
People listen to what others say as 9 out of 10 shoppers read reviews before making a final decision. When salespeople and marketers say their product is great, it doesn't sell the same as when someone not working for you says the same about your products.
Encouraging your customers to be brand advocates and spread the word should be a fundamental part of your marketing strategy. The returns your brand will see once positive reviews and experiences occur will be tenfold compared to other quick solutions. Word-of-mouth is the right long-term marketing strategy.